A great article about how so few of the decisions we make about food are actually ours!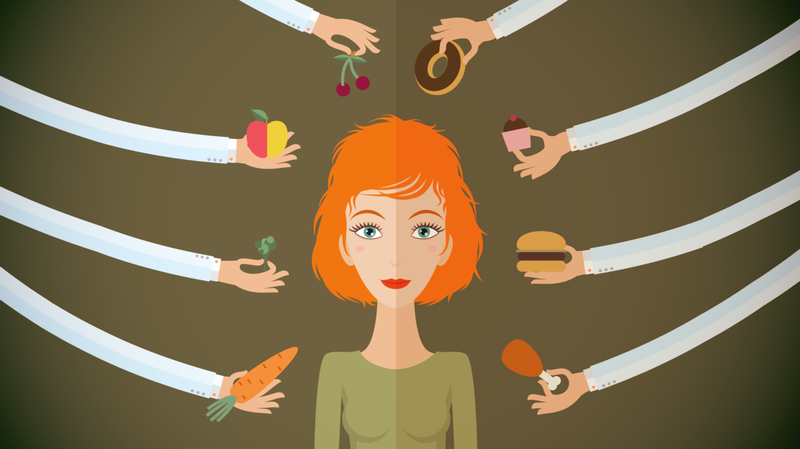 How Biology Influences Our Appetites
Why do humans tend to crave items like chocolate over salad? Taste preferences such as a "sweet tooth" are innate to human biology, and they can change over the course of our lives. Children, for example, have a stronger preference for sweet foods than adults do.
The modern food environment has introduced an influx of processed foods filled with sugar, fat, salt, flavor enhancers, food additives, caffeine and so on. These ingredients are manipulated to try to maximize our biological enjoyment of them and satisfy those innate taste preferences.
Your Brain Loves Food
The places where we make many of our food decisions can be overwhelming for busy consumers (there are 40,000 different products in a typical supermarket), and most psychological cues in our environment signal us to eat more, not less.
But for food, out of sight often means out of mind. Google provides free snack foods for employees, and found that employees were eating too many M&Ms. So they placed the M&Ms in opaque containers and made healthier snacks more visible.
Your Environment Influences What You Eat
The good news is that public discourse about obesity and policy-making is starting to reflect science. The public and policymakers are realizing that health issues like obesity and its related chronic diseases are not just about people's individual food decisions. People are prone to over-consume unhealthy foods because our current food environments exploit biological, psychological, and social and economic vulnerabilities, undermining people's ability to be personally responsible for their food choices.
Because weight loss programs often lead to limited weight loss that is difficult to maintain, bolder efforts are needed to prevent overweight and obesity in the first place. Fortunately, policy-level interventions are being introduced.
These are important first steps in tackling the obesity epidemic, and more research is needed for us to understand which interventions will work best. Innovative policies are needed to change what and how much we eat, alongside voluntary efforts by the food industry to make healthier choices easier and more desirable.
---